Priority areas for training and increased qualification of financial sector employees are the development of banks, technologies, provision of investment services, compliance and prevention of financial crimes and internal audit training.
In order to provide high-quality training in the above-mentioned areas, Association is cooperating with local and international partners, which have gathered significant experience and expertise on the current situation in Latvia as well as the latest global trends.


—
Industry event "EU Sustainable Finance: Briefing by Technical Expert Group"
Finance Latvia Association in cooperation with the European Commission invites you to participate in the industry event on some technical elements of the implementation of the European Union sustainable finance regulation in Latvia.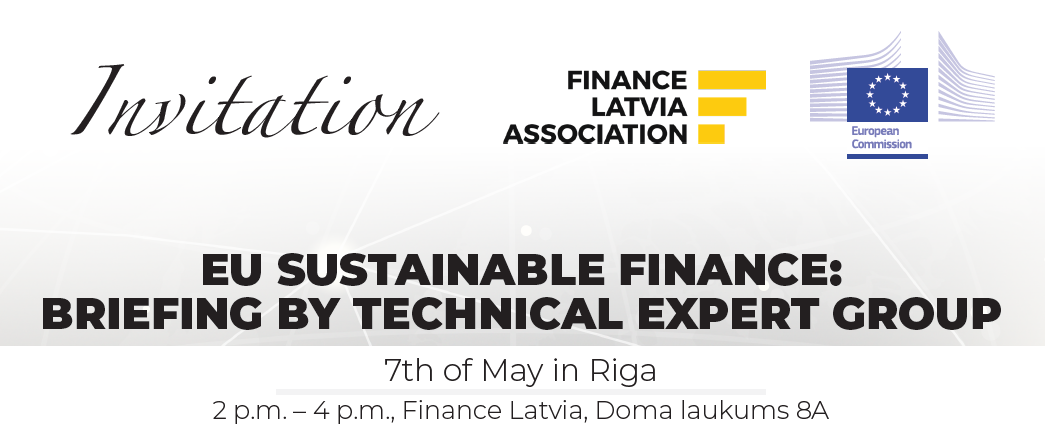 The aim of the event is to initiate awareness and dialogue on the EU sustainable financing Action Plan and regulatory proposals, to broadly inform of this legislative package and the expected entry into force. The key elements of the package are transparency and information requirements for financial institution customers (non-financial disclosure), sustainable finance classification (taxonomy), green bond standard and benchmark index for sustainability. Presenters will in particular focus on the Benchmark index and Disclosures.

The practical significance of this industry event will be to inform both the public and the private sector about some of the future expectations of the corporate finance market, where funding will not only assess the borrower's creditworthiness, but also the fulfillment of climate change targets and «green» components.
Finance Latvia supports the development of the United Nations Environment Programme – Finance Initiative (UNEP FI) Principles for Responsible Banking, and this April officially confirmed its endorsement of the draft Principles to UNEP FI. Association will promote the Principles of Responsible Banking within its network and will be active in public consultation.


Speakers:
Prof. Andreas G. F. Hoepner, Member of the Benchmark subgroup, Ph.D., Chair in Operational Risk, Banking & Finance as well as VP EDI, Republic of Ireland, EU
Marie Baumgarts, Member of the Disclosure subgroup, Head of Sustainability SEB
Registration has ended!
NB! As seating places are limited the registration could be closed before the deadline.
The Event is in English; pictures will be taken and videos recorded.


For further questions please contact: Kristīne Mennika, Finance Latvia, kristine.menniks@financelatvia.eu, +371 2652 8533