15 Aug 2017
The ALCB begins cooperation with the Digital Freedom Festival
The Association of Latvian Commercial Banks (ALCB) has become the financial technology (fintech) partner of the Digital Freedom Festival. During the joint cooperation we will organise high level discussions attracting the most experienced experts in the area, both within the framework of the festival during November 27-28, as well as during several earlier warm-up events.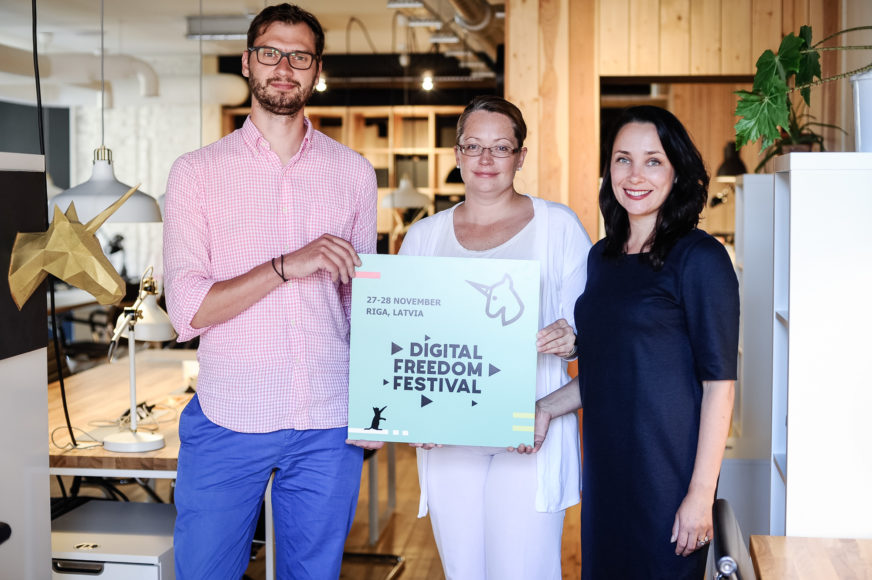 Sanda Liepina, Head of ALCB, and co-founders of DFF Dagnija Liepina and Juris Sleiers sign the memorandum on cooperation in the fintech sector
"Innovative finance technologies have significantly changed, and will continuously further change many fields, broadening the horizons for activity. Latvia's banking sector is very open and actively takes advantage of the possibilities provided by financial technologies in order to develop innovative services for clients and contribute to Latvia's growth," says Sanda Liepina, Chairman of the Board of ACLB.
The head of the Association considers the DFF to be a great platform for experts in various fields from Latvia and other countries to discuss how to make better use of the digital revolution to create a more efficient finance sector.
"Considering Latvia's ambition to become a financial technologies, or fintech centre for the region, this will be one of the key topics for the festival this year. This is possible only through close cooperation - between traditional banks and innovative start-ups and vice versa, as well  as by working with policy makers and regulators, and being aware of the rapidly changing impact of digital technologies on our daily lives. We therefore propose that the Digital Freedom Festival become the place where global level debates and dialogue on the fintech sector take place," emphasises Dagnija Lejina, the co-founder of DFF.