Latvian Industry Transformation Story: Small and medium-sized enterprises need more support for their development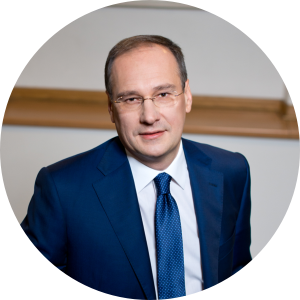 Interview with Dmitry Latishev, BlueOrange, Chief Executive Officer & Finance Latvia Association, Supervisory Board Member
By Sarmīte Bērziņa, specially for DB


The lending rate is one of the indicators of the state's economic growth. In turn, responsible lending and economically viable growth of lending rates is a precondition for sustainable economic development.
Companies' own profit and loans are the way to obtain funding needed for the development of new products and services, thus, to grow rapidly and conquer new markets. In conversation with BlueOrange Chief Executive Officer Dmitry Latishev, we discuss what trends in lending will 2019 bring, how cautious banks are in issuing loans, and entrepreneurs – in obtaining credit, and how banks are coping with the recent turbulence in the banking sector.


What is the current sentiment in the business lending market?
Lending market consists of two essential parts – a company's desire and willingness to borrow, and a bank's desire and willingness to issue a loan. Over the past three years, the ability and willingness of enterprises to borrow has increased significantly – during this period, business lending index has increased more than two times faster than that of individual borrowers, and this year, it has experienced its fastest growth so far; while the desire and ability of the banks to lend to businesses has declined slightly this year, according to the latest data of the index developed by the Finance Latvia Association. Nevertheless, lending in the business segment overall has continued to grow, though a little slower than in 2017.


So, in general, there is more activity in the lending market, but the growth of lending rates has declined – how to explain it?
This is due to two things. First, drastic changes to the market given that quite a big player – ABLV has ceased its activities this year. This substantially affected the banks' offer in the lending market and led to decline in competition as well as to a fall in credit supply. Second, economic development rates have slowed down a bit this year; consequently, banks are assessing more carefully which industries and companies they are ready to lend to, and are also reviewing their risk assessment indicators and models.


Can you define the so-called 'bad borrower' in the business environment? Who exactly is a risk customer?
I would not like to use the term 'bad client', but rather a borrower with a somewhat higher or increased risk. Each bank has its own approach to risk analysis and other various considerations that are taken into account. The first thing that every bank evaluates is the loan repayment sources, and whether the borrower's cash flow in the future will be sufficient to enable timely servicing of the loan. These questions are closely related to a particular business activity and industry, and factors on which the company's activities will depend on in the future. For example, the cash flow of a company with suppliers and customers from Latvia will be directly dependent on the economic situation here in Latvia; whereas if a company is engaged in export activities, then the events happening in the market where the company sells its products or provides services are analyzed. In Latvia, there are many manufacturers who have historically exported their products to the CIS countries, where they are exposed to the changing situation in the local market. In recent years, we have clearly seen how enterprises can be affected by interstate policies, sanctions, embargoes, and other types of restrictions that can even erode certain business sectors and enterprises.


And yet – who is a bad customer for some banks, and a good one for others? Is it always just about risk analysis?
Each bank has its own lending policy. Banks are always diversifying their loan portfolios, which means they are not lending to companies from just one or two industries. For example, a loan portfolio may comprise ten sectors, and the bank plans that each part can be no more than 10% of the total loan portfolio. Therefore, it is possible that a certain bank will not issue a loan to a real estate company, since the amount of credit allocated for this industry has already been exhausted.
There may also be industries that a bank no longer wishes to credit, identifying any possible additional risks. For example, the transit industry which has been severely affected by the political situation over the recent years. However, the banks' internal experience of working with enterprises in a particular industry can vary as well. For instance, we have many years of extensive experience in the transit area, therefore we have a separate risk analysis for such enterprises, and we are currently able to serve several enterprises in the transit sector. In the transit area, each situation is individual and is entirely dependent on a particular company: those enterprises that are servicing the flow of agricultural products locally will be less dependent on the fluctuations, while the port terminals that are focused on transit from the CIS countries or Russia will be in the area of higher risk. Not all banks are ready to go into areas where they lack profound experience. In such cases, we develop an individual approach to each client.


Is it true that getting a loan is easier for larger businesses than for small and medium-sized entrepreneurs (SMEs)?
A company with a good credit history, stable cash flow, transparent business, and appropriate collateral is likely to gain access to finance in any bank. For SMEs, the situation is often more complex – financial performance may not be stable enough, or, perhaps, the quality of loan security does not meet the bank's requirements, or the business structure is more difficult to track, or the stable growth is uncertain. Moreover, it cannot be denied that it is often more effective for banks, in terms of their own internal resources, to conduct research and prepare one big project, to grant one loan for a larger amount rather than granting three or even five smaller loans. Currently, only some banks in the lending market work with SMEs. Unfortunately, when a loan is refused, SMEs often turn to lending companies from the non-banking sector, but in this case, borrowers should expect a higher credit interest rate and less favourable conditions, especially in case of temporary business problems.


Why is so much attention being paid to these issues right now?
The development of small and medium-sized enterprises is the basis of any economy, and their access to financial resources is directly related to economic growth rates. Currently, there are more than 100 thousand SMEs in Latvia, which is 99.4% of the total number of enterprises registered in Latvia, and they provide more than 71% of jobs. At the same time, the market for lending to small and medium-sized businesses is not saturated with supply, and has the potential for development. Therefore, for example, BlueOrange is currently working on a new program to offer SMEs improved lending conditions. For these purposes, we plan to allocate up to 50 million euros in 2019.


You mentioned that research, provision and servicing of smaller loans is however unprofitable for banks…
The essential issue here is effective assessment and prompt processing of loan applications. We are actively developing the principles of online banking – if currently we are providing remote processing of applications submitted by individuals, then next year we will also be able to process business indicators remotely and offer appropriate solutions more quickly, thus improving the efficiency of lending to small businesses, which otherwise is a very time-consuming process. Data automation clearly enables a more rapid pace of development for banks.


In October, EC Vice-President Valdis Dombrovskis criticized the transit and banking sectors as the biggest factors hampering the economic growth of Latvia …
The Latvian transit industry used to rely heavily on goods imported from or exported to Russia. Most of this traffic was lost due to the political situation, while opportunities to attract the flow of goods from other countries are very limited. If the country succeeds in attracting major international partners, then large investments will be needed to create an accommodating infrastructure. As regards cargo transit to and from Russia, the choice is not only for Latvia and Russia to make – it is also determined by the global political situation between the West and Russia, which is unlikely to change in the coming years. As to the banking sector, there is a similar problem. A few years ago, practically half of bank customer deposits, half of assets were associated with clients from the CIS countries and Russia. Considering all the restrictions that came into force, banks have faced a difficult situation and had to drastically change their business strategy: withdraw from the large customer area of the CIS countries and Russia, look for other business models and opportunities in European countries, which cannot be done in the short term. The geopolitical situation affects every enterprise whose main export market is the CIS countries or Russia. Subsequently, this implies an increased risk of the business activity of such companies, thus becoming a major obstacle for obtaining credit. Everything is interconnected.


The banking sector itself experienced substantial turmoil over the past year. The media occasionally expose various violations and fines that have been imposed on banks by the industry regulator. In your opinion, has the 'cleanup' of the banking sector been finished, and can we hope that there will be no more accusations against the banking sector in 2019?
Hardly anyone can make such a promise. No one is immune from the possibility that some old failure to comply may get updated. It is important to understand that just 10 years ago legal requirements regulating banking activities were completely different. The very first laws requiring banks to monitor activities of their clients and to assess risks appeared about 15 years ago. Initially, banks were not obliged to perform such an in-depth assessment of whether a client is involved in any suspicious transactions – it was the task of the relevant government agencies. Therefore, customer violations are detected with great delay not only in Latvia, the Baltic States, but also in Scandinavia, Europe, the United States. 'First generation' anti-money laundering laws came into force 10 years ago, and banks were fulfilling these regulatory requirements and assessing risks without such systems and tools that are now available for monitoring of suspicious transactions. This means that sometimes banks are penalised by the application of the latest requirements and regulations to situations that in a particular period of time corresponded to a completely different legislation.
Nowadays, besides the main task of servicing customer transactions, banks must also perform a controlling function – monitor the origin of funds in clients' transactions. This creates a heavy load and requires many additional resources. We are continuously improving our ability to ensure early detection of suspicious transactions. Thus, for instance, our bank invests an average of at least one million euros a year both in purchasing new software, and in additional training of employees. We can say that there is a continuous battle between the banks and the criminal world – who will win. Only those working in the banking sector know how much has been invested in recent years. The situation has improved considerably. Therefore, let us hope that bad discoveries of the past will decrease and suspicious transactions will be detected more quickly.


Recently, there have been indirect warnings from the economists that a new wave of overheating of the economy may be approaching Latvia. Are these justified, in your opinion?
After the lessons learnt in 2009-2010, many processes have changed: entrepreneurs conduct their business more prudently, more carefully, diversifying risks. Usually a crisis comes when it is not expected, and not vice versa. Therefore, stagnation can be expected rather as a result of caution.
We cannot overlook these issues in the context of the labour market – there are increasingly more vacancies, not enough employees, and wages are growing. Given that the outflow of the population from Latvia continues, we have to agree that there is some instability in this area, and improvement of efficiency is becoming an increasingly important issue. In this regard, however, it all depends on the economic situation in Latvia as a whole and on how effectively we will be able to support and develop certain industries. Currently, Latvia has every opportunity to find the right scenario and prevent economic slowdown. It should be the next joint effort of both specific sectors and the new government. The government must be able to develop promising new industries, find new opportunities for transit which is of great importance for this country, expand the existing opportunities of our country at the international level.


Transit is one of the cornerstones of the country's economy. What is the development potential of this sector in 2019? What other areas do you think have great potential in the future?
Cargo transit and logistics companies have a direct impact on the economic situation, and Latvia has recently been actively looking for opportunities to service transit traffic from China to Western Europe. China's exports to the European Union range from 200 billion euros annually. This is a huge market. Perhaps, there is a potential for cooperation, however, our entrepreneurs are in a severely competitive environment. Currently, China is actively developing transit relations with Belarus, and it is very possible that Russia has influenced this decision. To reach the Baltic Sea, Belarus cooperates with Lithuania due to lower costs of using the Klaipeda port. Another possibility is to build terminals and attract Chinese traffic of goods delivered to Europe by sea. In view of the Arctic sea ice decline, there are talks of using more actively the so-called Northern route – for China, the path to Europe along the Northern route is much faster and cheaper than the traditional routes through the Indian Ocean and the Suez Canal. Of course, Nordic countries will also be interested in attracting these cargo flows. Latvia still has opportunities, but a lot of work is required – creating working groups, setting specific goals and developing a set of measures at the state level.
We have a good level of infrastructure, trained and qualified workforce, there are good opportunities for Latvia in the IT sector as well, providing services to corporate centres in Western Europe and the UK. However, the above advantages are not developed on a sufficiently high level for large corporations to adopt an immediate decision in favour of Latvia. This area also requires close cooperation of business and government in order to promote national assets. In this regard, Poland and Lithuania are strong competitors of Latvia.


What is your vision of the banking industry in 2019?
After the recent headwinds, 2019 could be a year of stabilisation for the banking sector, with the banks strengthening their positions as one of the pillars supporting Latvian economic development. In view of the recent changes in business models of many market players, banks will ever more fiercely struggle for clients on Latvia's small market and will have to consider yet new ways to attract clients. It will definitely be a year of competition for technological development, where the client is the main beneficiary – banking services will become faster, easier, cheaper, and more accessible.
In the banking sector, it is also reasonable to consider exports of financial services – if previously the focus was more on the CIS countries, then currently banks search for opportunities to cooperate with FinTech companies in the EU market, work in the online technological environment like BlueOrange is doing it now.
Next year, banks in Latvia and across Europe will have to think of ways to improve the efficiency of both internal processes and customer service. I believe that gain in performance will become one of the most important criteria in 2019 – not only for the banking sector, but for companies across all industries.
Translated by BlueOrange
Published in Dienas Bizness magazine on December 6, 2018